ft (the Shadow Government)
The Black and White Album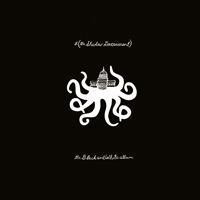 ft (the Shadow Government) layers drums, guitars, vocals and electronic whines and whirs, throws it through some oscillators and other electronic wizardry, and comes out with its carefully manipulated, genre-less sound.
Even with sound design credits and the heavy use of circuitry, the band has more in common with Black Flag than Brian Eno.
The Black and White Album, its second full-length, the band picks up where earlier recordings left off. A massive collaboration, recorded at ten locations — including Steve Albini's Electrical Audio, Mike Lust's Phantom Manor and the gun range at Freedonia Ranch — the album features guest performances by William Elliot Whitmore, STNNNG's Chris Besinger, Tornavalanche's Zach Westerdahl and nine others.

Formerly known as Flaccid Trip, ft (the Shadow Government) has played and toured with the likes of STNNNG, Call Me Lightning, The Flying Luttenbachers, William Elliott Whitmore, The Plastic Constellations, Jenny Hoyston, The Bitter Tears, and Racebannon.
Electronica? Nope.
Punk? Sort of.
Paranoid anti-government noise from the Heartland? Abso-fucking-lutely.
---
Track listing
More Instruments
The Greatest Generation Doesn't Have to Apologize for Anything
Piles of Money
Clitorious P.I.G. (Female Cop)
Forked Tongue (Steady Groove)
Watch Out for that Bullet, Guy
Dong is My Autopilot
Bullshit Shit
Doubt at the Shevel
Wandering Song
Drone Song
So Many Limo Seats
Momo Eat the Taxman (mp3)