"There is something special about two-person grindcore bands. When I first dropped the needle, I was pleasantly surprised."
—
MaximumRocknRoll
"Try this one out."
—
Razorcake
Murder of Crows
Copeater
split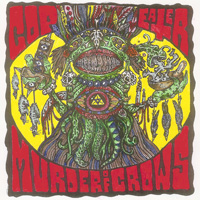 Two of Madison, Wisconsin's finest on one record. From Murder of Crows's metallic hardcore to Copeater's grindcore onslaught, this is a taste of Upper Midwest hardcore. The bands have played with the likes of Requiem and Black Market Fetus.
These are two of the Midwest's best kept hardcore secrets.
---
Track listing
Murder of Crows

Empty Battlefields

Copeater

Whiskey Momma
Whale Riders
Space Docking
Vector Annihilator
Limited to 557 copies, 130 on black vinyl, 427 on yellow. All records have recycled center labels, hand stamped with either silver or red ink. Yes, limited-edition black vinyl. Love it.