Trendy Bastard
Krupskaya
split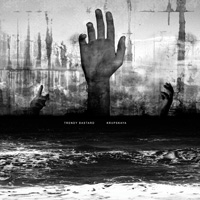 A cross-Atlantic punk fest!
Krupskaya, from the UK, blast and shriek through six tracks of ultra-fast and chaotic political grind that they are quickly becoming well known for. Flip the record over and you will hear the last six tracks to ever be recorded by Iowa's favorite variety-metal, DIY-spirited bastards Trendy Bastard.
A split release from Scenester Credentials, Give Praise, Wolves Fight Good, 6am 7am, Ignore This, Destroy After Use and Yehonala Recordings.
---
Track listing
Krupskaya

And Bless Those Who Carry Trepidation for the Faceless Enemy
Rain Fell in the Morning Air
Onwards the Rightious into the Mire
Failed by the Angel of Mons
Only Rats Came for the Bodies
Trespass Against Me for I am War and Rebirth

Trendy Bastard

Urethra's Castle
Dan Woodman
Crocodile Mustache
Twig Destroyer
Bark Funeral
666 Can Eat My Shit Shit Shit
500 copies pressed, 250 on blue-and-white swirl vinyl, 200 on red vinyl, and 50 on yellow vinyl.