Get Rad
Call Me Lighning
split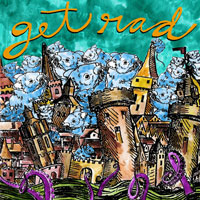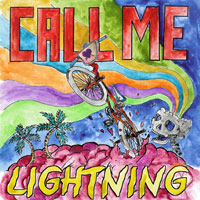 The reigning kings of Milwaukee — if not Wisconsin — underground music team up for an empire-sharing 7-inch of epic proportions. Both bands enter battle armed with each other's songs. In other words, this 7-inch sees Get Rad covering Call Me Lightning and Call Me Lightning covering Get Rad. Get it?
Both bands combine the best that rock, indie, punk, and thrash have to offer. Get Rad plays thrashed-out fun punk rock and features former and current members of Seven Days of Samsara, Kung Fu Rick, Textbook Traitors, High on Crime and others. More skate then thrash and more punk then rock, Get Rad's name alone pretty much sums it all up. Call Me Lighting brings a high-energy sassy rock-and-roll-meets-punk experimenting to the flip side of the record. Or is Get Rad the flip side? Anyway, think early Rolling Stones, Talking Heads and Killing Joke, toss in some punk sensibility and you've pretty much got it.
---
Track listing
Get Rad

Ghosts in the Mirror
We Be Dragons

Call Me Lightning

Say Fuck No to Rules, Man
You Over Rotated From Sandbox to Laboratory
Limited to 600 copies, with a 300-copy Get Rad blue vinyl edition and 300-copy Call Me Lightning clear vinyl edition.