"A masterpiece within its genre."
—
Anomalie
The Spectacle
I, Fail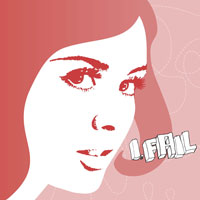 The Spectacle's second full-length is a masterpiece spanning eight songs and two discs that redefines punk rock.
Drawing from Godspeed! You Black Emperor, Catharsis and Requiem, the Norwegian band made eight-minute songs with soulful cello acceptable for a hardcore band.
Originally released in Europe on Smart Patrol and then on CrimethInc. compact disc, the inspirational I, Fail has been re-mastered and re-released in the U.S.
---
Track listing
Courage and a Brick (mp3)
Flag of Defeat
By God
When Every Move is Anticipated
From Sandbox to Laboratory
All Towers Must Fall
Self and Others
I, Fail
500 copies pressed, 100 on red splatter vinyl with limited-edition botton set available during pre-order.