Mr. Blanding's Dreamhouse
Ninety-nine Aprils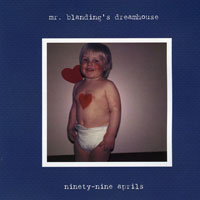 With Ninety-nine Aprils, Mr. Blanding's Dreamhouse improved upon its 1999 self-titled album on S.K.A.M.
Some called MBD's style apple-core, others cuddle punk. Whatever the label, the female-fronted band played their own flavor of indy rock. With distorted-but-clean guitars and driving bass, Mr. Blanding's Dreamhouse were could rock out or go slow.
Formed during high school, the band played together for nearly seven years and toured with other Midwest indy rockers House of Large Sizes and The Bent Scepters.
SC002 was assigned to several different releases that never panned out. Matt had helped pay for this disc's release by the now-defuct Lomo Records. It is now a quasi-offical Scenester Credentials release.
---
Track listing
Canyon Eyes
Summer's Over
He's in the Sky
Except Tonight
Red Car
Wait Outside Until You're Perfect
Time Being
Left
Sea of Me
My Integrity
Pacifire (mp3)
1000 compact discs