Happy holidays. Now buy our records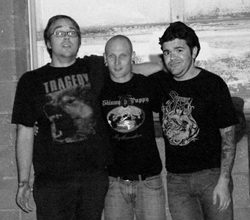 It has been a banner year for Scenester Credentials and we just want to thank each and every person who has purchased one of our releases, gone to one of our bands' shows, booked one of our bands, carry our catalog of music, and anyone who has supported us in any way, shape or form. Thank you very much, we wouldn't exist if the underground scene wasn't filled with so many amazing and active people.
Because we have been so moved by the spirit of the season (as well as the tightening of pocket books) we are offering almost our entire distro and label catalog with HUGE SALE sale prices up through the end of the year. As a special bonus, whenever you order more the $20 worth of items from the distro, you get a free T-shirt.
Let Scenester Credentials help make some holiday moments come true for you and your family. Think about the smile on little Suzy's face when she opens that new ft (the Shadow Government) LP or how Papa could really use that Spectacle double-LP to win over the hearts of the red hat ladies. Imagine Marah-Mar playing softly in the background during Christmas dinner will really enhance the mood. Or your Uncle Jimmy finally being able to listen to that Horde CD he had been wanting. These are just some of the precious moments that Scenester Credentials can help create.
So yeah, good music, good prices, good dudes!